One of SCCWRP's top six accomplishments of its first 50 years
SCCWRP unifies disparate organizations around geographically encompassing ecological assessments of the coastal ocean and the watersheds that drain to it.
SCCWRP's top six accomplishments
The six most important, managerially relevant accomplishments of SCCWRP's first 50 years, as identified by those who've helped make SCCWRP the organization it is today
Technical accomplishments
Organizational accomplishments
Regional monitoring calls on multiple agencies with overlapping responsibilities for protecting aquatic ecosystems to pool their resources and work together on more expansive, holistic scientific investigations than they could do on their own. Through regional monitoring, dozens of environmental management agencies and partners from academia, consulting firms and NGOs collaboratively assess the condition of aquatic ecosystems across time and space, and speak with a unified voice about findings and implications.
Perhaps the most important ancillary benefit of regional monitoring is that it builds collegiality and trust within the water quality management community. Participants work together to define study objectives, agree upfront on which investigations they most want to conduct, and commit to taking prescribed courses of action depending on outcomes. They also standardize data collection and analysis methodologies, perform intercalibrations to ensure all data generated are of consistently high quality, and test-drive next generation methods and tools with multiple stakeholders in diverse settings.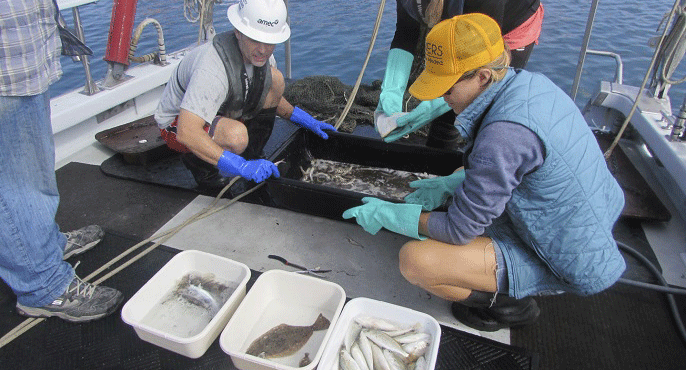 SCCWRP has built a reputation for facilitating the conceptualization, design, and execution of Southern California's signature regional monitoring efforts – the marine focused Southern California Bight Regional Monitoring Program, which started as a pilot project in 1994, and its freshwater counterpart, the Southern California Stormwater Monitoring Coalition Regional Watershed Monitoring Program, launched in 2009. These programs have become nationally recognized models for how to bring together diverse stakeholders to study pressing environmental issues of management concern.
In recognition of SCCWRP's visionary leadership in facilitating regional monitoring initiatives, the National Water Quality Monitoring Council recognized SCCWRP with its 2019 Vision Award.