A workshop to accelerate the incorporation of eDNA science into environmental management applications
Monday September 12th, 2022 – Tuesday September 13th, 2022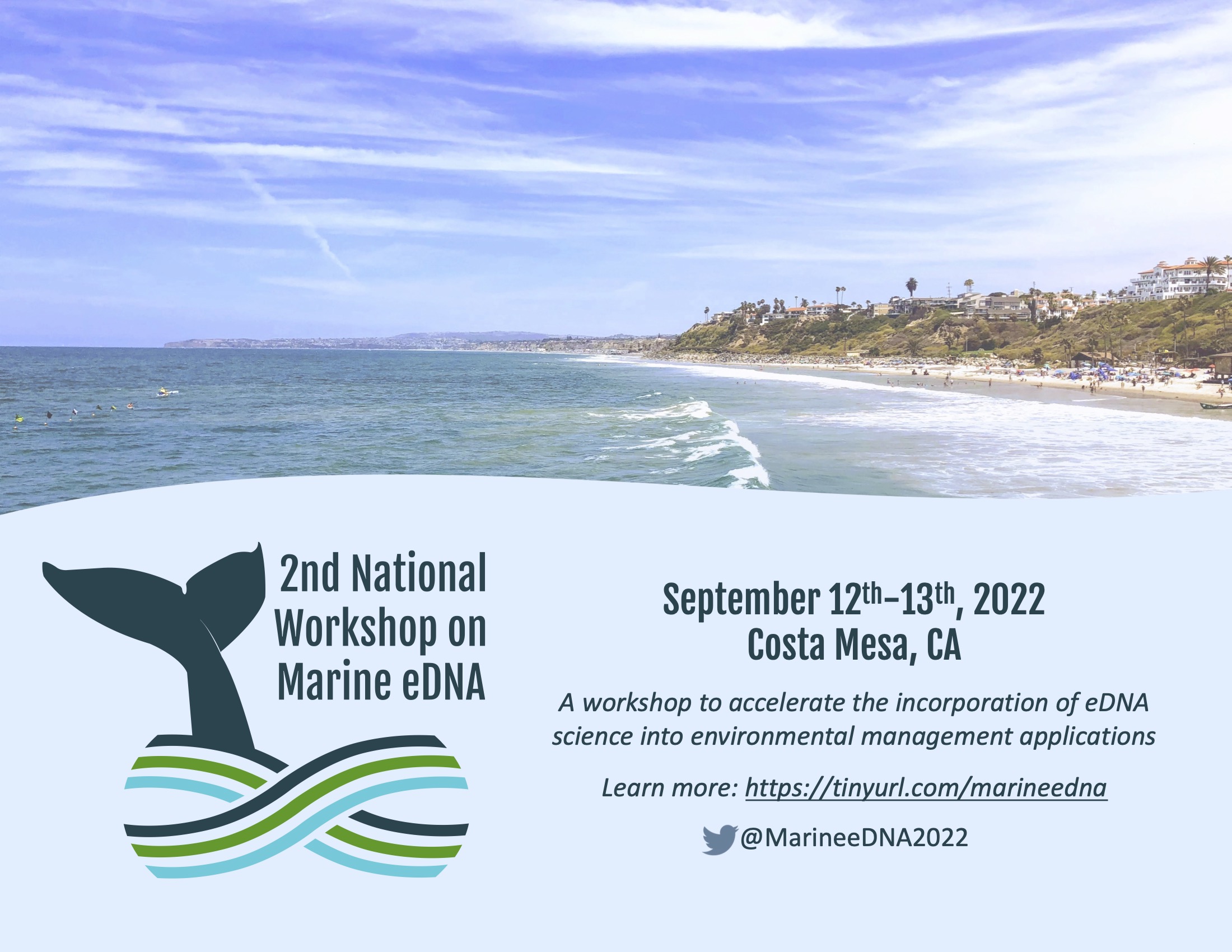 Thank you to everyone who made the Workshop a success!
Recordings and presentation materials
Background
This workshop will follow the First National Conference on Marine Environmental DNA, held November 29-30, 2018 at the Rockefeller University in New York. The first workshop focused on establishing a long-term vision for eDNA as a powerful, dependable, and efficient tool for ocean observation. This workshop will build on that success by identifying the opportunities for partnerships between researchers and agencies to close science research gaps and transition molecular methods into environmental management.
The use of environmental DNA (eDNA) to detect aquatic organisms is becoming increasingly popular in bioassessment programs. A growing number of peer-reviewed publications have demonstrated the power of DNA-based approaches to provide rapid, accurate, and cost-effective taxonomic identifications. However, the incorporation of eDNA-based approaches into management applications is lagging these scientific advances.
This workshop will bring together a diverse cross-section of researchers and environmental managers to discuss ways to both identify and overcome past impediments to DNA method adoption. The workshop will include traditional scientific sessions for knowledge transfer (i.e., through reviews of the latest technical advances and eDNA tools) but will primarily focus on developing agency roadmaps for the incorporation of DNA methods.
Workshop goal & outcomes
To accelerate the incorporation of marine eDNA science into environmental management by bringing together researchers, government agencies, industry representatives, private foundations and other stakeholders. A key outcome of the workshop will be a series of collaborations between scientists and agencies for addressing the primary impediments to eDNA-method adoption. These collaborations may come in the form of intercalibration exercises, technical studies, DNA library development, bioinformatics comparisons, and more.
Questions?
Please contact Susanna Theroux (susannat@sccwrp.org) with any questions.
[/box]
Workshop organizers
Dr. Jesse Ausubel, Rockefeller University
Dr. Elif Demir-Hilton, Oceankind
Dr. Kelly Goodwin, National Oceanic and Atmospheric Administration
Dr. Ryan Kelly, University of Washington
Dr. Kai Lee, Center for Ocean Solutions, Stanford University
Dr. David Lodge, Cornell Atkinson Center for Sustainability, Cornell University
Dr. Rachel Meyer, University of California, Santa Cruz
Dr. Chris Meyer, Smithsonian National Museum of Natural History
Dr. Susanna Theroux, Southern California Coastal Water Research Project Authority
Dr. Steve Weisberg, Southern California Coastal Water Research Project Authority
Dr. Mike Weise, U.S. Navy Office of Naval Research
Additional resources