Massive 3-year sampling effort for San Diego Bay bioaccumulation study wraps up
Posted August 7, 2015
---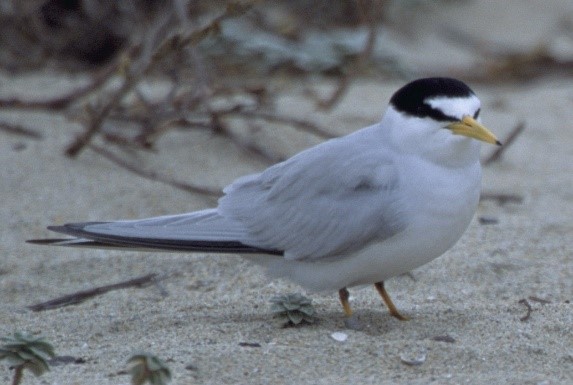 Scientists have finished collecting and analyzing more than 260 animal samples from San Diego Bay in one of the most comprehensive Southern California investigations ever conducted into how contamination is transferred through various levels of the food web.
The sampling – completed over the past three years – encompasses sediment-dwelling mollusks, worms, and shrimp near the bottom of the food web; multiple species of sport fish and prey fish in the middle of the food web; and the eggs of the California least tern and other birds at the top of the food web.
The goal is to understand how contaminants from sediment and other sources build up – or bioaccumulate – in each successive predator. SCWWRP and its numerous study partners are seeking to evaluate health risks to wildlife and humans who consume seafood from San Diego Bay.
Study findings, scheduled to be published in summer 2016, are intended to provide environmental managers and regulators with a strong scientific foundation with which to plan and take action to improve the bay's water quality.
The expansive data set being used for the study is unique among bioaccumulation studies because multiple key steps of the food web are being studied at once, and because a comprehensive list of analytes is being targeted, including mercury, selenium, PCBs, DDTs, PAHs, and contaminants of emerging concern (PBDEs).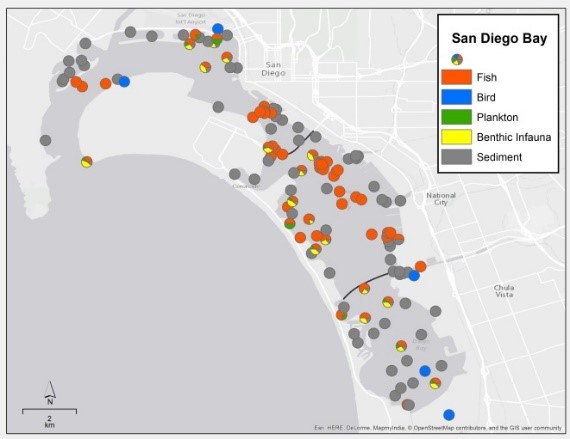 This study is highly leveraged, with the Southern California Bight Regional Monitoring Program and several San Diego public agencies contributing to the sampling and chemical analysis efforts.

Study data will be used to produce an updated evaluation of the risk to San Diego Bay wildlife from contamination, and to refine an assessment framework under development that will explain how to interpret California's sediment quality objective to protect human health.

For more information, contact Steve Bay.


More news related to: Regional Monitoring, Sediment Quality, Sediment Quality Assessment Frameworks, Top News